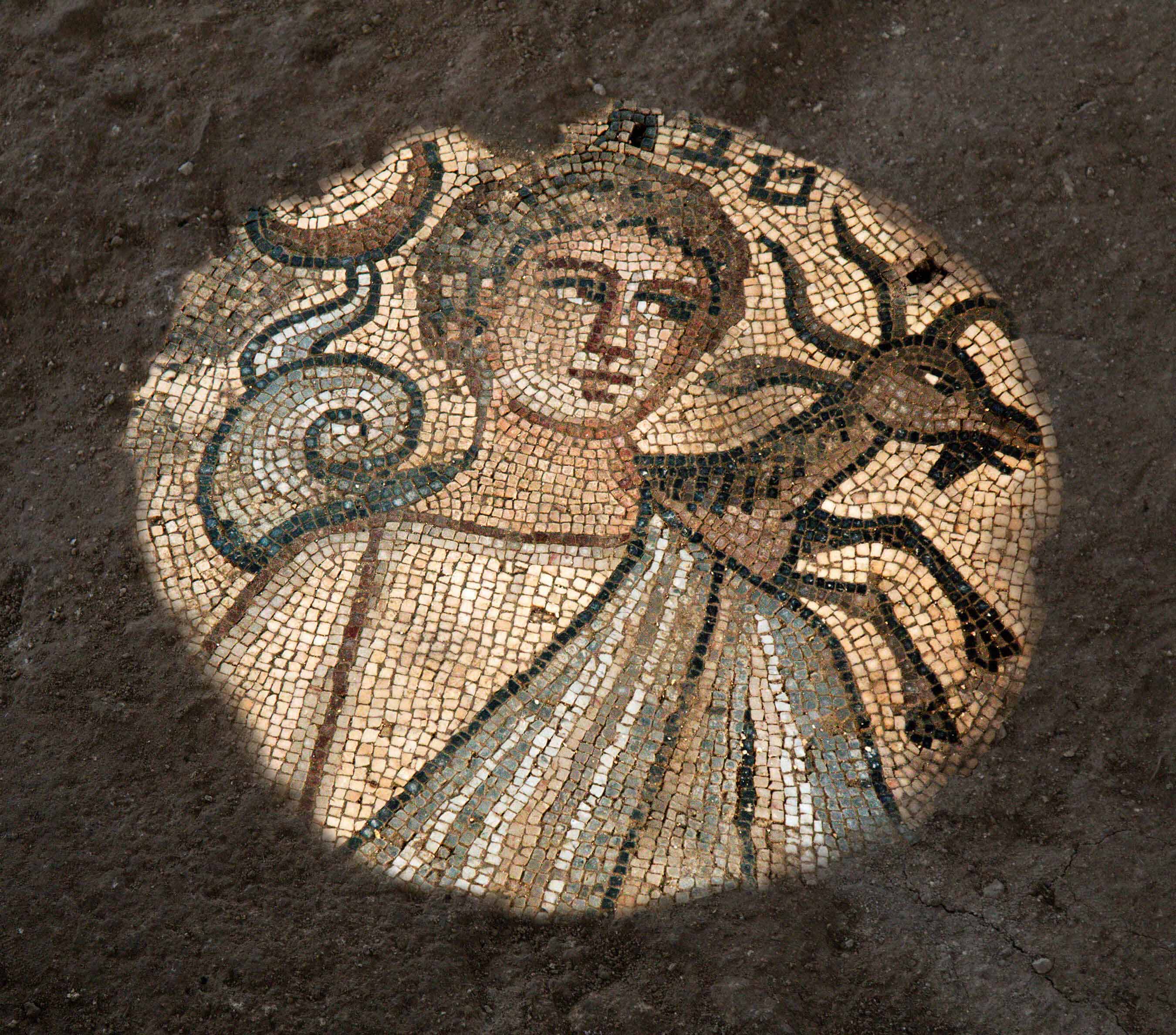 More fabulous mosaics unearthed at Huqoq
If the standard of its fifth-century synagogue is anything to go by, the Jewish village of Huqoq must have been a good place to live. Built of great stone blocks, or ashlars, the synagogue covered 300 square meters, with a mosaic floor divided into rich and diverse frames. University of Carolina professor Jodi Magness has been excavating the site since 2011, unearthing one scene after another, each comprising thousands of tiny, colored stone squares (actually cubes) of the highest quality. This year's dig has added some surprises to the vivid mosaics uncovered so far.
The most curious perhaps revisits the biblical tale of Jonah and the whale, showing the prophet's legs dangling from the mouth of a large fish, which is being eaten by an even larger one, itself protruding from the jaws of yet another. Magness suggests that this is an example of a mosaic illustrating not only a Bible story, but its midrashic embellishment, "oral traditions that circulated among the local Jewish population." This is the first time Jonah has been discovered adorning a floor in Israel.
Another mosaic shows the sun god, Helios, in a four-horse chariot, surrounded by personifications of the Hebrew months and their zodiac signs (a detail of which appears here) as well as the four seasons. This scene adds to the puzzling group of Galilean synagogue mosaics (such as in the Beth Alpha synagogue) featuring the sun-deity.
A third panel excavated this season shows men building a stone tower, possibly the Tower of Babel. There's enough detail to allow for an analysis of ancient construction techniques.
"One distinguishing feature of the Huqoq mosaics," said Magness, "is the incorporation of numerous classical (Greco-Roman) elements such as putti, winged personifications of the seasons, and – in the Jonah tableau – harpies [large birds with female heads and torsos representing storm winds]."
Other biblical images portrayed on the synagogue floor and discovered in previous seasons include Noah's Ark and the parting of the Red Sea, as well as two stunning depictions of mighty Samson. Even Alexander the Great turns up in a mosaic, making him the only post-biblical legend in synagogue decoration to date.