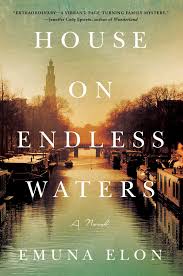 -
–
House on Endless Waters
Emuna Elon
Atria Books (Simon & Schuster), 2020, 320 pages
"Those waters have already flowed onwards" is the practical yet poetic statement with which the fictitious Dutch heroine of Emuna Elon's story within a story nudges her children into their stubbornly Israeli future. Having snatched them from the jaws of death on a Nazi "exchange train" that swapped a single transport of Dutch Jews for German citizens interned in Mandate Palestine, Sonia has many reasons not to look back.
All the characters in this novel are fictional, but its circumstances are terrifyingly true – the complexity of Holocaust Amsterdam, its collaborators and resistance, but above all, the inner conflicts of its Jews.
The author's fourth book in English translation, House on Endless Waters is arguably her best, though its underlying narrative is in many ways the farthest removed from her own background. Though lacking the stream-of-consciousness fluidity of Elon's Hebrew style, the translation by Anthony Berris and Linda Yechiel flows well.
Elon's contemporary protagonist is, like herself, an Israeli writer. The catalyst for this novel was the author's almost chance visit to the Jewish Museum in Amsterdam, from which she emerged onto the city streets with the fearful instincts of a fugitive. That experience is transposed into the book, as Yoel Blum searches for his origins in an Amsterdam his conscious memory can't recall.
Perhaps the most shocking aspect of the destruction of Dutch Jewry is the banality with which it was carried out, right down to making Jews purchase their own train tickets to a transit camp en route to Auschwitz. Elon conveys this twisted reality using ars poetica; Yoel Blum writes the book as we read it: his present and the history of the woman he'd always called his mother are irrevocably intertwined.
Yoel approaches the house and sees that the threshold is covered by fallen red leaves. Red ivy climbs beside the front door and the leaves that fall from it pile in the entrance like a puddle of blood. Opening sentence of the story: Sonia goes into the house without treading on the red autumn leaves piled in the doorway. Eddy had smiled this morning and […] suggested that he clear the way for her. But Sonia, also smiling, asked him to leave the leaves, and her, alone. This autumnal message makes me happy, she told him. And fallen leaves aren't dirt, Edika. You have to admit that the threshold looks much lovelier with this colorful garb than without it. (pp. 81–5)
Bloodlike yet festive, the red leaves punctuate the novel, hinting at the city's beautiful but deadly character for Jews under Nazi rule. Sonia's Amsterdam – and Yoel's – is a captivating city of shifting light reflected in ubiquitous canals and captured by many skilled artists. Yet 139 works in Amsterdam's art museums evidently came from Jews' apartments, emptied by cranes through their high windows with Dutch efficiency just days after their owners were deported. House on Endless Waters is infused both with this beauty and with the murky waters flowing through and beneath it, metaphorically washing its past away.
Ashkenazic synagogue in Amsterdam in 2007. Currently a museum
Mother and Child
Told in flashbacks interspersed with an Israeli tourist's day-to-day encounter with modern Amsterdam, the narrative builds tension without revealing its final twist. Yet all the pointers are there: Blum's literary creativity but emotional reserve; his sense of detachment and fear of abandonment. Elon profiles the 2,500 Dutch Jewish children sheltered by strangers; only some of these youngsters were returned to whichever relatives survived the war:
"It's only since I have begun taking part in these meetings," said Raphaels when they were again chatting in the synagogue after Sabbath service, "only since I have spoken to other Jews who were also hidden in their childhood, that I have become aware of the anger hiding within me all these years. It turns out that all of us – anyone who was passed from hand to hand, from one parent to another at a young age – suffer, until today, from similar problems, and especially have difficulty forming emotional relationships." (pp. 250–1)
As Yoel Blum embraces his lost identity and his visiting grandchild, Elon suggests that in Israel at least, this barren destiny has been defied. The historical narrative merges with the present, and the jigsaw pieces fall into place. Daringly, the author allows a forthright eighteen-year-old to raise one of the most difficult issues of the Holocaust in Amsterdam: the complicity of the Jewish council in Amsterdam (including the imaginary Yoel's maternal grandfather):
I'm sorry, Grandpa, but I don't understand what right she had to judge your biological parents. Not only did she judge them, but she also sentenced them to the most terrible punishment: that you, their son, would not know of their existence. (p. 295)
By having Blum discover and accept his identity, Elon implicitly condemns such judgment.
House on Endless Waters bravely preserves a little-known aspect of the Holocaust for posterity, yet Elon's Amsterdam – at once a city of betrayal and rescue; of darkness and light – is built on ever-churning waters, washing all iniquities out to sea.