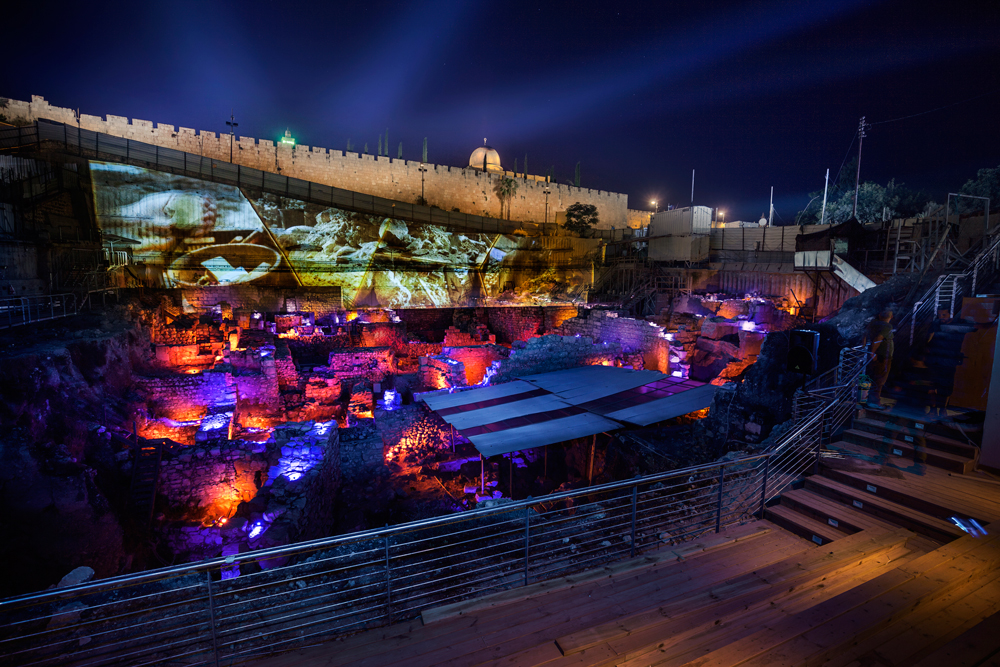 This summer the Old City of Jerusalem walls have been the backdrop for sundry colorful sound and light displays. The Citadel Museum regularly projects the history of the city over the centuries on its inner walls, below David's Tower each summer, and this year Jerusalem's municipality used the walls by Jaffa Gate to commemorate the reunification of the city in the Six Day War fifty years ago.  Now the City of David's Elad Foundation has joined the club, with a cleverly conceived presentation in two parts.
The first, in the Givati parking lot excavation below the Dung Gate, highlights the dig's sensational finds over eleven years. Video projected over the actual remains onto the dig's supporting wall interweave computer graphics with footage of a young boy wandering through the remains, literally bringing archeology to life. A fragment of a proto-Aeolian column (ie. predating the Greeks), a Hellenic period arrow-head, and Byzantine gold coins – all of them found in the excavation – expand each in their turn into animation symbolizing the beginnings of the Israelite Kingdom as a regional power under Solomon, the conquest of the Akra fortress by the Maccabees (the remains of a mighty tower, complete with period ammunition, stands right in the site's center) and the building of a Byzantine church. The artistic inspiration for some of the animation comes from artifacts of the relevant period; Assyrian clay reliefs for Solomon's coronation and commerce, and Byzantine mosaics for the final section.
For the second part of the display, the audience moves to sit below the early second Temple wall of Jerusalem, which is lit up by a film describing its rebuilding by Nehemiah based on the biblical narrative. Once again, on-site archaeology makes up for a certain degree of kitsch, and the computer graphics combining human actors against a backdrop of hand-drawn scenery are refreshing, and though not great art, extremely impressive. For an experience richly linking past and present – as you sit right where the actual history took place – it's hard to beat!