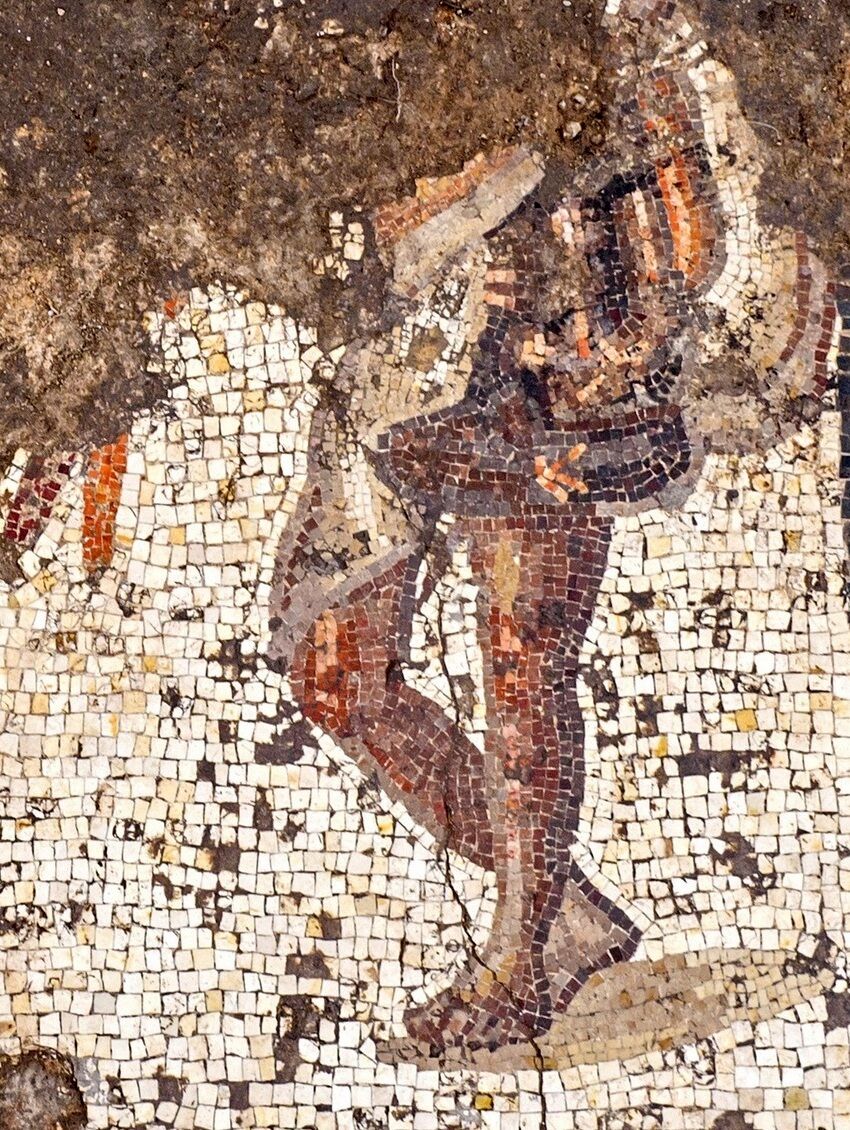 An exquisite Roman mosaic has been found by the Crusader bridge leading into Caesarea, hidden until now beneath the ruins of the Byzantine city's shopping plaza
Trio in Togas
A rare, artfully executed mosaic has been revealed close to the Crusader bridge leading into the ancient port of Caesarea, which is currently under reconstruction. Dated to the second or third century, the mosaic shows three male figures, all wearing Roman-style togas of varying lengths. Unfortunately, parts of the mosaic have been destroyed, making it impossible to tell who the figures represented.
Peter Gendelman and Uzi Ad, who are directing the excavation for the Israel Antiquities Authority, assume the men were of high status:
"Who were they? It depends what the building was used for – which is not yet clear. If it was part of a luxurious private residence, they could have been the owners. If it was some kind of municipal institution, perhaps they were members of the town council or some other civic functionaries."
An impressive Byzantine public building – the equivalent of a covered shopping plaza, or agora – was built over the mosaic in the sixth century, causing significant damage. A Greek inscription appears in the upmost section, which hopefully will shed more light on the nature of the site, although that too, regrettably, is severely damaged.
Jacques Nagar, head of the Israel Antiquities Authority's Art Conservation Department, explained that extremely small stones of carefully variegated shades, packed densely together with roughly twelve thousand stones per meter, were used to create the mosaic's realistic effect. The entire mosaic is large – three and a half by five meters – and compares favorably with similar Roman creations discovered in Antioch in Turkey, once a major Byzantine city.
"We are now working to make sure that the exposed parts of the mosaic are preserved and will not disintegrate over time. The area of the bridge is also being re-planned to make the mosaic assessable to the public," he told reporters. Eventually, visitors will be able to walk through the Byzantine agora, while viewing the once-buried mosaic beneath their feet.
This section of ancient Caesarea has barely been excavated, indicating that the current investment in reconstruction and preservation of the picturesque ruins, funded by an unprecedented donation of over a hundred million shekel by the Edmond de Rothschild Foundation, should be well-rewarded.