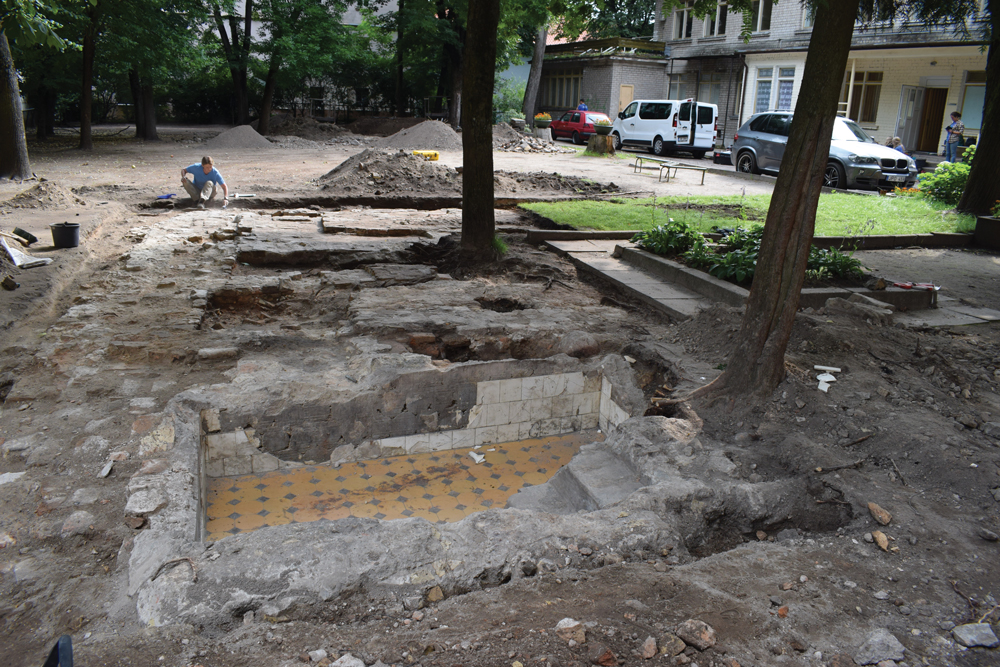 An international team of archaeological diggers unearthed the remains of two ritual baths formerly used by congregants of the Great Synagogue of Vilna, in what was once the hub of Lithuania's Jewish community.
Originally built in the seventeenth century in accordance with the Baroque Renaissance style, the Jewish complex of the Great Synagogue in Vilna functioned not only as the community council building, but consisted also of twelve synagogues and study halls, including that of Elijah ben Solomon Zalman, famously known as the Vilna Gaon, one of the most influential Rabbinic authorities since the Middle Ages. And, according to this recent excavation, there were two ritual baths, known as mikvehs, too.
The excavation was assisted by an architectural plan that was drawn for the community at the end of the nineteenth century in order to renovate the ancient bathhouse that operated there. According to this plan, which was found in the Vilna Municipal Archives, the bathhouse was composed of two floors, several rooms and a large service wing. In addition, the archaeologists were able to identify two installations that are thought to have served as the ritual baths. The walls and floor of these rooms are coated with flagstones and steps lead down to the mikveh pool. There is also an auxiliary pool, in which water would have been collected and stored to prepare the mikveh for ritual immersion.
Comprising half of Vilna's population, the Jewish community and its prominent site of religious activity was destroyed by the Nazis during the Second World War. What remained was razed to the ground by the Soviets, with a modern school being built over and upon the sometime 'Jerusalem of Lithuania'.
These discoveries will not restore the 'Jerusalem of Lithuania' to life, but they will help to further discover the history of a lost heritage and culture, and remind us that until seventy years ago it was home to one of Eastern Europe's largest Jewish communities.